25 years of milestones-BU celebrates a culmination of academic excellence & community development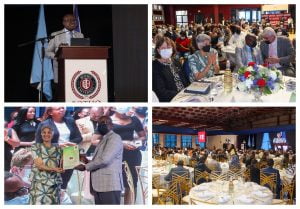 They say the journey of a thousand miles begins with one step, and so is the case with Botho University's (BU) journey that started in 1997 from humble beginnings to now being an international university with campuses in Botswana, Lesotho, Namibia, Eswatini and a new campus in West Africa-Ghana as well as the dynamic Blended and Distance Learning Campus (BDLC). Attending the event on the 16th of September 2022 to mark the silver jubilee-25 years of offering academic excellence and making footprints in community development were BU Board, Senior Management, staff and students, Cabinet Ministers, the diplomatic community, corporates and international guests.
The celebration was a culmination of the milestones that BU has achieved thus far, partnerships with international universities such as Baden-Wuerttemberg Cooperative State University(DHBW) in Germany and KTH Royal Institute of Technology (KTH) from Sweden and as well as BU's DNA of giving back to the community.
In her welcome remarks, BU Vice-Chancellor- Dr Sheela Raja Ram emphasised how BU was a homegrown brand exporting Botswana-developed programmes in the Southern Africa region and soon to make strides in West Africa. She hailed BU as a multi-disciplinary university which delivers quality and adopted sustainable management approaches-scalability, reusability, standardisation and data-driven decision making.BU's commitment to nurturing employable graduates who become productive citizens and these employability initiatives were assessed by International Finance Corporation (IFC)-World Bank Group in 2021. Consequently, the results indicated that 97% of BU alumni recommend BU, and 87% recommend BU because they want to start their businesses.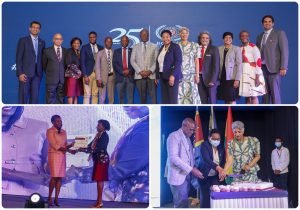 The high-tempo event saw the BU Choir serenading the crowd with melodious music, and celebrated Poet Moroka Moreri made a special poetry piece for the 25th Anniversary. The Minister for Communications, Knowledge and Technology, Honourable Thulagano Segokgo, delightfully celebrated BU's key milestones and its hallmarks of quality, technology, staff development and stakeholder engagement and several partnerships with international institutions, which have given significant results, including active student, staff exchange, curriculum development & joint research and building more centric pedagogy such as Challenge Driven Education and Work Integrated Learning.
Honourable Thulagano Segokgo also launched the BU Sustainability and Social Impact Report (SSI) 2022, which showed that the institution met 12 out of 17 UN Sustainable Development Goals. Dr Sheela Raja Ram shared the delightful news that BU has been shortlisted for the Financial Times (FT)/International Finance Corporation (IFC) Transformational Business Awards 2022 for Hybrid and flexible teaching and learning during the Covid-19 pandemic.