#Breakthebias, BU Celebrates Phenomenal Women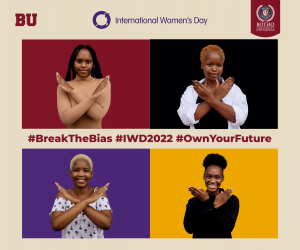 For International Women's Day 2022 (IWD2022), under the theme #BreakingTheBias, Botho University embarked on different campaigns and activities to mark this important day. This year's theme aims to achieve a gender-equal world, a world free of bias, stereotypes, and discrimination.
#SheDidSoYouCan was one of the campaigns where BU profiled excelling women breaking the glass ceiling in their different paths. From young women striving for excellence such as Didintle Mmereki, Gobakwe Ramadi, and Lone Kobe, to visionary leaders like Dr Sheela Raja Ram, the Vice-Chancellor and Managing Director of Botho University.
BU students were also part of the IWD2022 strike pose challenge to raise awareness against bias and take action for equality. It is without a doubt that BU continues to make strides in gender equality and creating a conducive environment where women excel either through their inclusive academic programmes or initiatives to empower women.
Student & Alumni Affairs Department (SAAD) also hosted a Live Session, starting a conversation that celebrates women's achievements and raising awareness against bias. The panel discussed ways in which women can be afforded a level playing field in the context of Botswana, focusing on areas or sectors in which women are not participating satisfactorily due to bias. The panel included Dr Sheela Raja Ram, Dr Kay Raseroka, Ms Bukamu Hulela and Ms Olerato Rapula, all women who have defied the odds to become inspirational leaders in their fields.
Eswatini campus celebrating international women's day