BU 2nd annual virtual employability a huge success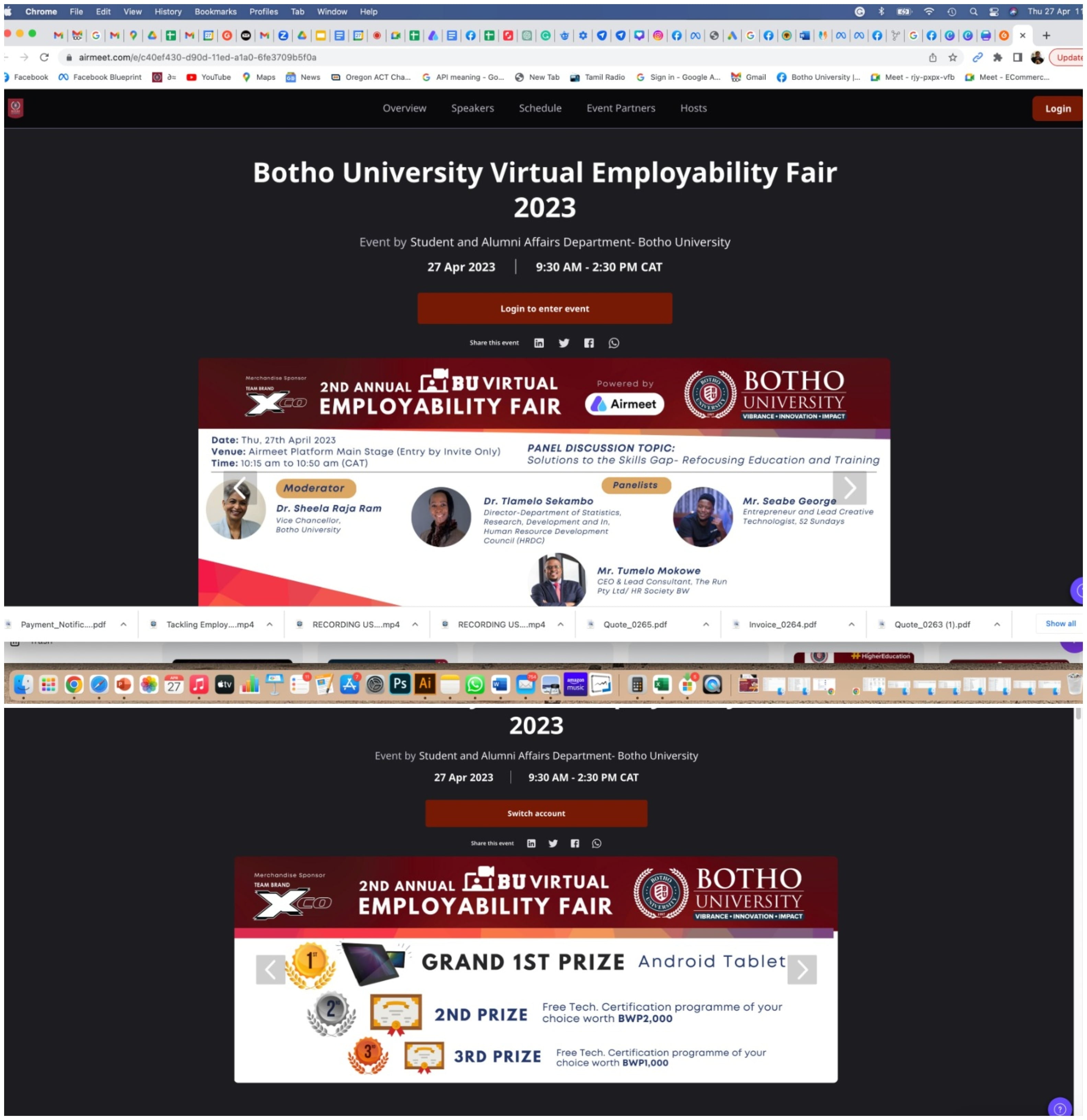 Botho University's commitment to graduate employability continues to be at the forefront of the institution's mandate in producing globally competitive graduates. On the 27th April 2023, BU hosted the BU 2nd Annual Virtual Employability Fair showcasing over 20 leading employers and three global partners: Virtual Internships, NextStep and WACE, who are dedicated to helping students to kickstart their careers.
Botho University, Vice-Chancellor, Dr Sheela Raja Ram moderated a session on "Solutions to Skill Gap: Refocusing Education & Training", which unpacked the importance of collaboration between industry and educational institutions. The diverse panellist included:
Director-Department of Statistics, Research, Development, and Innovation at Human Resource Development Council Botswana, Dr. Tlamelo Sekambo
Lead Creative Technologist at 52 Sundays, Mr. Seabe George
Human Resource & Leadership Professional at The Run BW, Mr. Tumelo Mokowe
The panel discussion was vibrant and interesting, and it focused on the value of soft skills in giving students and recent graduates a competitive edge in the workplace. Mr. Seabe George emphasised that while Artificial Intelligence (AI) won't replace jobs, it will replace students and recent graduates who don't use it.
The participants gave positive feedback on the Virtual Employability Fair, which saw three students being awarded prizes as Engagement Champions:
1st Prize: Tefo Kopelo scored 5835 points and won the Grand Prize of a Tablet.
2nd Prize: Ashwin Hayden scored 5460 points and won Free Tech. Certification worth P2,000.
3rd Prize: Tshwaraganang Job Letlhogoje scored 5460 points and won Free Tech. Certification worth P1,000.