BU hosts groundbreaking Virtual Employability Fair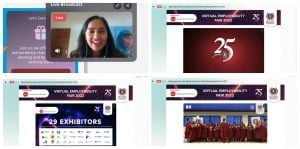 After much anticipation of the Botho University Virtual Employability Fair, the Student and Alumni Affairs Department (SAAD) thrilled over 220 graduates and 29 companies and employers in an interactive virtual platform called Airmeet on the 7th of April 2022.
Pro-Vice-Chancellor, Finance, and Employability, Dr Priya Iyer in her welcome remarks highlighted that employability sits at the centre of Botho University's strategy hence the importance of students going on the journey of the Botho Graduate Profile (BGP). She emphasised that when COVID-19 hit, Botho University partnered with Virtual Internships, a platform that enabled students to take on remote internships with companies globally, which in the end armed them with cross-cultural experiences from around the world. Dr Iyer urged the graduates to be committed to continuous learning which will help them adapt to the ever-changing needs of today's labour market.
The theme for the fair was Creating Opportunities in the Changing Nature of Work and Skills in the Digital Age. There were a lot of interactive sessions for graduates from different companies such as mobile network operators, parastatals, government departments, and financial services.
The Vice-Chancellor of Botho University, Dr Sheela Raja Ram continued the strong momentum of the fair by hosting a plenary session with Co-Founder & Director of Youth Hub Africa, Rotimi Olawale, Education and Employability Lead-South Africa, International Financial Corporation, Mofope Israel-Adegboye and from Virtual Internships, Rachel Criso. The session further explored new trends in the job market and how graduates can position themselves with relevant skills in becoming globally competitive.
Tshwaraganang Job Letlhoagoje, Emmanuel Thabang Keolapile, and Kgalalelo walked away with prizes courtesy of sponsors such as Jenny Internet which offered free home internet connection for one year.