BU hosts successful charity golf day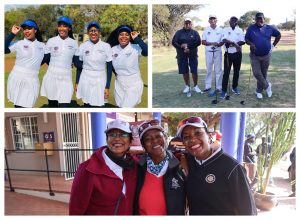 Light rains ushered in the first Botho University (BU) Charity Golf Day 2022. Over 27 partners and sponsors, golfers, BU Senior Management and Board Members, and media attended the event at the 18-hole scenic Stanbic Gaborone Golf Club on Thursday, 23rd June 2022. The Chief Executive Officer(CEO), Business Botswana, Mr Norman Moleele was in great spirits to Tee Off and officially kickstart the games.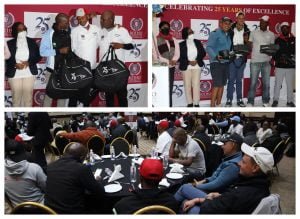 The lovely day was wrapped up with a glitz and high-spirited awards ceremony hosted by the Co-Partner for the event, Avani Gaborone Resort & Casino. In his welcome remarks, Pro-Vice-Chancellor (Strategy), Mr Ananth Ram highlighted how Charity Golf Day was one of the many activities to celebrate BU's 25th anniversary. He fondly shared how BU started from humble beginnings as a national leader in vocational and corporate training to 25 years later being a regional university that has spread its wings in Lesotho, Namibia, Eswatini, Blended and Distance Learning and now with sights of opening a new campus in Ghana.
Mr Ram further thanked all the stakeholders present for the unwavering support continually extended to BU, since especially the main purpose of the Charity Golf Day was community development. He mentioned that all the event proceeds would be channelled towards selected charities to be announced at the much anticipated 25th Anniversary celebration event at BU, Gaborone campus.
Community development continues to be an organic cord with BU, as the university recently launched the exciting BU Community Initiative. This specific not-for-profit foundation serves local communities and students, and alumni. The BU Community initiative will be a formalised structure. To summarize in simple terms, all the community service BU does is by supporting student scholarships, graduate entrepreneurial support, community development projects and research to develop solutions for local communities' challenges.
The winners could not hide their excitement as prize sponsors ensured that they didn't go empty-handed. Botswana National Sports Commission (BNSC) team: Thapelo Kepaletswe, Mokgosi, Gift Nkwe, and Petrus Molefe were the champions of the night. The team scored a luxurious night at the Hilton Garden Inn, Golf Kits by Botho University and Sports Bags by XCO Group. Position two was awarded to XCO Group comprising Francesco Manis, Ebu Mahomed, Edwin Madigela and David Masole. Position 3 was awarded to Enko with players Clifford Maribe, Solly Matike, Charlie Manyepedza and Pele Moleta.