BU signs MOU with Botswana Geoscience Institute (BGI)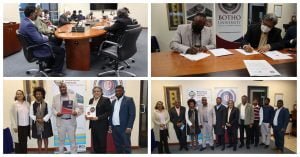 The Faculty of Engineering & Technology (FET) recently signed a Memorandum of Understanding (MoU) with Botswana Geoscience Institute (BGI). The FET team beamed with pride and came in numbers to mark the fruitful end of a journey that they long started with BGI to eventually sign the MoU on the 5th August 2022 at the BU Boardroom.
The event was graced by key BU Management, Head of Departments (HOD) from FET, and representing BGI were the Chief Executive Officer, Mr Cisco O. Mashabila, Director, Information Delivery, Ms Lesego Peter and Manager-Marketing & Communications, Mr James B. Mosalankwe. Present from FET was: Dean of Faculty of Engineering & Technology-Professor Srininath Doss, HOD Applied Sciences-Mr James Matshwele, HOD Information Technology-Mr Leo John Baptist Andrews and HOD Network Infrastructure Management-Mr Annamalai Alagappam.
Pro-Vice-Chancellor & Director-Internationalisation, Mr Ravi Srinivasan shared that BU was the first private university to export education to the region, expanding its wings to Lesotho, Eswatini, and Namibia. BU's fast-paced growth will see the institution penetrating the West African market with a new campus in Accra, Ghana.
Assistant Dean-Blended and Distance Learning, Ms Subhashree Ravi shared her appreciation for the BGI team and the FET team for ensuring the MoU will become a success and expressed gratitude for a bright future for the collaboration. Dean Faculty of Engineering & Technology, Prof. Srinath Doss outlined the MoU objectives as follows:
#Research collaboration towards building capacity and development of appropriate technologies and through identifying funding opportunities through various international funding bodies.
#Capacity building and strengthening knowledge empowerment through staff and student exchange programmes, attachment, and mentorship.
#Sharing of human and physical resources through joint seminars, workshops, and conferences.
#Corporate Training on industry-specific areas for both parties.
On his part, Botswana Geoscience Institute CEO, Mr Cisco O. Mashabila emphasised that we live in a data-driven society and how BU is instrumental in driving the 4th Industrial Revolution. He further shared how he is excited that the MoU has to be a live document that does not accumulate dust, but benefits both parties through capacity building and various collaboration initiatives.
Director-Information Delivery, Ms Lesego Peter from BGI expressed gratitude to the BU team for the collaboration and shared how she looked forward to reaping the benefits of the MoU. She especially commended BU as a pioneer in robust technology infrastructure which is relevant to the ever-changing technology needs such as addressing data hacking and cybersecurity issues.