BU student crowned Miss University Africa-Southern Africa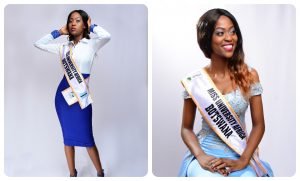 Botho University student studying BEng (Hons) in Electrical Engineering, Lone Monicah Kobe, is proving to be a force to be reckoned with in the modelling and pageantry scene. Last December, she made a mark in Miss University Africa 'MUA' beauty pageant in Abuja, Nigeria. MUA is a non-bikini pageant aimed at promoting and celebrating the beauty and innate potentials of the African continent. Kobe's exceptional talent and beauty saw her making it to the Top 10 of the Miss University Africa 2021 out of 55 countries and crowned Miss University Africa-Southern Africa, becoming the Queen among all Southern African Countries.
Kobe's pageant journey began in 2012 in her secondary school as a regular on the pageant circuit. She has since been crowned in pageants such as Miss Botho University, Miss Ramotswa, and Miss Red Ribbon Botswana, BW Runway Model of the Year.
On her experience in Abuja at the pageant, she fondly shares, "The experience in Abuja was amazing. We were well taken care of, including high-level security provided throughout the trip. We slept in one of the luxurious hotels in Abuja, Barcelona Hotels. Although we went there during the harmattan season, most of us kept falling sick because we were not used to the weather, still the organisers ensured that our safety and health were a priority throughout the pageant."
Kobe commended BU for always hosting beauty pageants which have helped build her confidence and experience, and she is also an active Student Representative Council (SRC) member. On balancing her pageant duties and studies, she noted that most of her pageants are on weekends, allowing her to prioritise her schoolwork during weekdays. Kobe is also passionate about giving back to the community. She did a charity project with BW Runway Model of The Year, where she donated sanitary pads to Junior schools in Ramotswa. She has identified House of Angels Orphanage in Gaborone as a charity that she would love to work with in future.
Let us all avoid this sense of trepidation and face the pandemic with the much-acquired experience by practising Safety, Social Distancing and Hygiene.