BU student crowned winner at the UNESCO India-Africa hackathon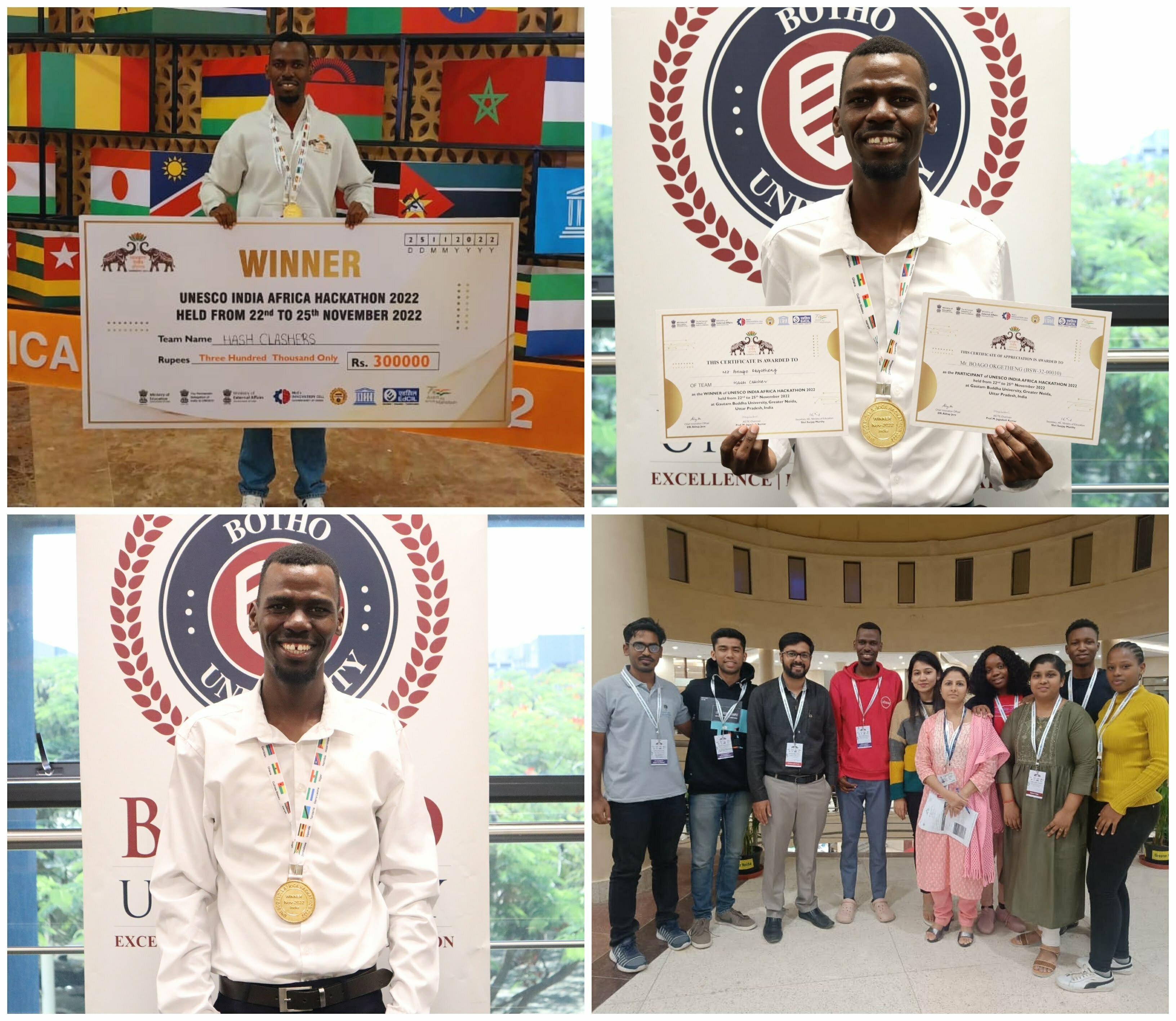 Boago Okgetheng, who is studying Post Graduate Diploma in Higher Education through the Blended and Distance Learning Campus (BDLC), recently emerged victorious from the UNESCO India-Africa Hackathon 2022. The event was held on the 22nd -25th of November at Gautam Buddha University, Uttar Pradesh in India. The UNESCO INDIA – AFRICA Hackathon is an annual 36 hours event that brings together students, educators, teachers, and the research community of India and its African partners to tackle the common challenges faced by their countries and serves as a facilitator for cultural amalgamation.
He partnered with five other students from Eswatini, Zimbabwe, Equatorial Guinea, and India to form Team Hash Clashers, they collaborated on the assigned theme of Health and Hygiene, and their project was titled Digital Partogram. The objective of their project was to generate alerts and send information to referral centers in order to reduce maternal and child mortality by providing real-time decision support, improving data entry, and strengthening the referral chain.
Okgetheng and his team's project were received extremely well, and they scooped medals and a cash prize of about P50,000. Okgetheng's stellar performance makes him one of the four students in Botswana who emerged victorious in the UNESCO India-Africa Hackathon 2022. Their achievement was also recognised in a luncheon hosted by the Assistant Minister of Education and Skills Development, Honourable Aubrey Lesaso, who lauded them for their hard work and significant contribution to the transformation of the economy of Botswana.
He spoke passionately and positively about his experience in India, where he met students from all over the world, allowing him to expand his skill set and form connections with like-minded individuals for future collaborations. He went on to say that he immersed himself in cultural experiences and even learned a few Hindi words. Okgetheng mentions visiting the Gateway of India as well as the famous and beautiful Taj Mahal.