Bu student exchange programme grows in leaps and bounds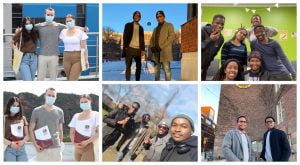 As the new year begins, Botho University continues the popular student exchange programme, which is in partnership with many reputable international universities. The Gaborone campus recently welcomed three exchange students from KTH Royal Institute of Technology in Stockholm, Sweden. The student exchange programme with KTH started in 2018 with 11 Botho University students having visited KTH in Stockholm, Sweden, to date. The student exchange program allows students to experience different cultures and perspectives, including new traditions and customs and meet new people.
The three students from KTH are delighted and already enjoying the BU hospitality and academic excellence. One of the students, Patryk Torngren, said, "I am happy to experience the kindness and warmth I am receiving on-campus and off-campus, it is exciting as I am eager to learn about different cultures. I want to gain more perspective on how I can do things differently, and I am hoping that the exchange programme can give perspective on how I can do things differently."
Innocent Tiroyaone Letlhogela and Thati Alex Phologa came back from Sweden from the Botswana campus in mid-January. Letlhogela, who studies BSc (Hons) in Computing in Gaborone campus, was recently part of the KTH Royal Institute of Technology in Stockholm, Sweden exchange programme. Letlhogela has glorious reviews about the exchange programme, as he said, "The exchange program made me adaptable, interacting with the many academic communities made me improve my academic skills as I met different students with vast skills and knowledge. The exchange program took me out of my comfort zone, the reason being that the time we spent in Sweden was so short, that meant that I would not have enough time to make friends (long term) explore the whole of Sweden and its countless cities, but all this made me proactive as I had to cover up academically and still be adventurous. Also, living with people from all over the world was of advantage because you end up learning something new without even realising it."
Since the inception of the student exchange programme, 29 BU students have visited the University of Venda in South Africa, while Botho University has hosted 26 students from the University of Venda. As part of the exchange agreement, Botho University also offers to host any students travelling from these universities on exchange to any Botho University campus. The Student and Alumni Affairs Department is responsible for providing support on accommodation, visa and study permits and general information on student exchange matters.
To be part of the dynamic and enriching student exchange programme visit https://botswana.bothouniversity.com for more details.