BU student Matse, shines at the Education Collaborative Convening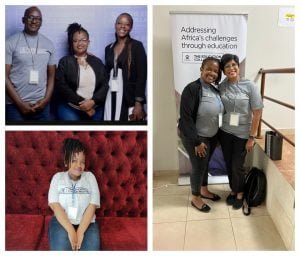 The highly anticipated event, The Education Collaborative bounced back with its first in-person Convening since 2020 in Accra, Ghana, from the 13th to 17th of June 2022. The exciting event was held in two venues, Asheshi University (one of Botho University's partner universities) and Accra Marriot Hotel. This year's theme was Building the Capacity of Institutions to Improve African Higher-Ed Outcomes, which brought together over 190 participants from across 23 counties and 60 education institutions including Botho University.
Blended and Distance Learning Campus (BDLC) student, Gcwalise Matse based in Eswatini who studies BSc in Network Security and Computer Forensics, beams with pride as she had an opportunity to witness the Education Collaborative June Convening in Accra, Ghana as a volunteer. Matse delightfully shares her experience at the Education Collaborative which saw her joining other student volunteers from across Africa. Matse shared her experience of the warm hospitality she received in Ghana, particularly with the team she was working with who treated her like family.
"I felt at home and fell in love with the food especially the famous West Africa Jollof rice. One of the highlights was when we went on a tour of the capital city, Accra, and explored sights such as the beach, Art Centre, and had the first taste of coconut fruit. The beach was a sight to behold since Swaziland is landlocked and we don't have access to the sea," said Matse.
Matse further shared that The Education Collaborative Convening was an eye-opening experience, and she learnt a lot about the importance of institutions producing graduates with entrepreneurial skills and leadership qualities to become competitive in the modern job market. Matse gained lots of knowledge in her participation in attending various sessions led by Chief Executive Officers (CEO), Educationalists and various Industry Captains.
Matse fondly remembers how during the initial interview before the Convening with Deputy Pro-Vice-Chancellor – Employability and Technology, Mrs Aravinda Ram on why she should be chosen for the opportunity, she said she wanted to gain teamwork experience. Hence, she is happy to report that she has exceeded her expectations as the annual convening became a huge success, and she immensely contributed by ensuring the needs of the participants were met and providing various support to the sessions.
Matse emotionally notes how she didn't even want to return to Eswatini because she got global exposure through interactions with student volunteers from Rwanda, Kenya, Ghana, Burkina Faso, Niger, and Burkina Faso. The student volunteers established a lifetime bond by wrapping each day with reflections on what they learned each day with the Education Collaborative team.
All in all, Matse concluded that she enjoys the flexibility that comes with being a student in BDLC, as she can have a balance of work, travel, and study. She further highlighted that she looks forward to more opportunities on the Blackboard and other BU platforms, as well as immersing herself in community engagements to make her a well-rounded graduate. She has sights on expanding more on her volunteer work and IT Certifications to make her an industry-ready graduate in 2025.
"It is very important to apply for opportunities shared on Blackboard because it may unlock great opportunities for you. I was just trying my luck, I had nothing to lose, right? In the end, I was awarded an all-expenses-paid trip to Ghana and proved why I was a deserving candidate. This opportunity gave me the determination to continue pursuing more opportunities because I have learned that nothing is impossible as long as you put in the work," said Matse about how the opportunity has changed her life.