Get Ready for Botho University's 12th Annual Linkz Challenge: #Showcasing Your Brilliance #LinkzFest
Exciting news! We are delighted to announce that Botho University will be hosting the highly anticipated
12th Annual Linkz Challenge after a gap of 3 years due to the covid-19 pandemic, where we could only host events virtually last year.
Linkz Challenge hosted by Botho University, as most of you know, is an incredible inter-college and inter-school competition that provides a platform for our talented students to showcase their skills and compete against other esteemed institutions.
This year's Linkz Challenge will focus on areas such as business ideas, science, tourism, cyber security, mathematics, accounts, and much more. It's a chance to unleash their potential, exchange knowledge, and foster innovation among their peers.
Here's why we strongly encourage our staff and students to participate:
1. Network and Connect: Interact with students and professionals from other prestigious institutions, forming invaluable connections and friendships that can last a lifetime.
2. Showcase Your Talents: Represent Botho University and demonstrate your skills, knowledge, and creativity on a grand stage, gaining recognition for your exceptional abilities.
3. Gain Industry-Ready Exposure: Engage with real-world scenarios, enhancing your problem-solving skills and preparing for future career challenges in a supportive and competitive environment.
4. Rewards and Recognition: Outstanding performers will be rewarded and acknowledged for their remarkable achievements, giving you the motivation to strive for excellence.
5. Personal Growth: Participating in the Linkz Challenge will broaden your horizons, expose you to new perspectives, and foster personal development.
We invite all our staff and students to register for the event and maximize this opportunity.
Let us come together and inspire the brightest minds within Botho University!
To register or find further information, please visit https://forms.gle/A4nJnRmqAtSd6TFU7
or contact our dedicated organizing committee at (See posters below).
Secondary School Competitions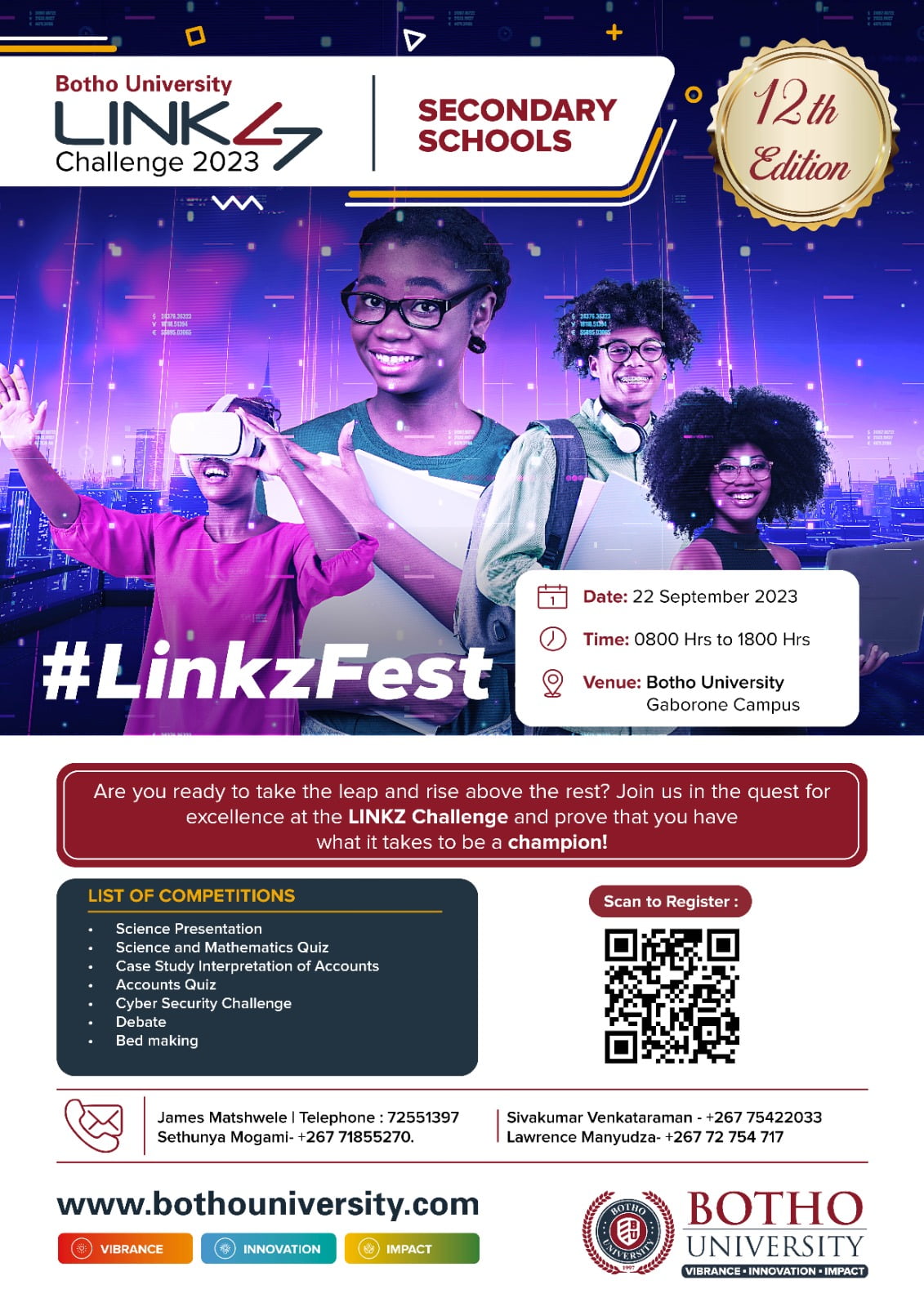 Teartiary School Competitions