Maseru campus hosts graduation ceremony for class of 2021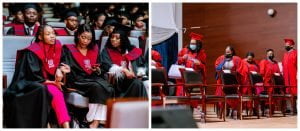 Lesotho Campus bounced back with an exciting physical graduation ceremony held on Friday 24th June 2022 at the Manthabiseng Convention Center, Maseru. The graduation ceremony was for celebrating the outstanding achievements of the Class of 2021.
The joyous moment was graced by Chief Guest, Honourable Minister of Development Planning, Mr Selibe Mochoboroane, the Vice-Chancellor of Botho University, Dr Sheela Raja Ram, Pro-Vice-Chancellors, Head of Campus, Senior members of the Maseru Campus Management and invited stakeholders from industry and government.
The vibrant ceremony saw a total of 241 students graduating from three faculties: Faculty of Engineering & Technology, Faculty of Business and Accounting, and Faculty of Health and Education. This graduation ceremony coincides with BU's 25th Anniversary Celebrations, marking the university's silver jubilee.
In this ceremony, eleven students received awards in LePAP Technician Accounting (Stage one) while 230 students were also conferred different Degrees including BSc (Hons) in Accounting, Business Management, Computing and Health Information Management.