Turkish Ambassador Visits Botho University: Strengthening Collaboration Opportunities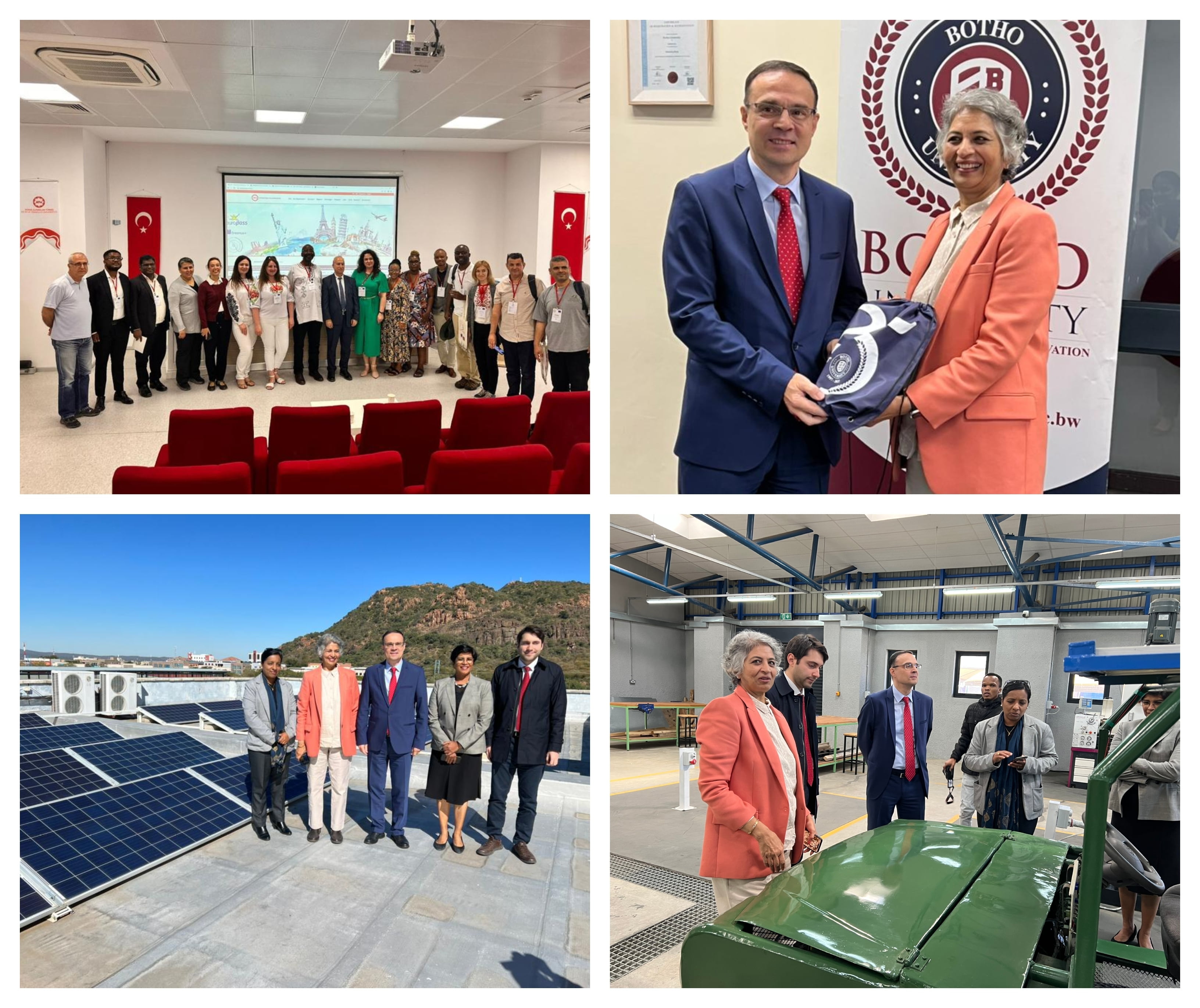 Botho University, Botswana campus had the privilege of hosting the Türkiye Ambassador, His Excellency Idem Akay, on the 1st of June 2023. During his visit, the university discussed its strong relationship with Turkish universities having two MoUs in place covering aspects of students and staff exchange, research, and curriculum development opportunities. Botho University also updated the Ambassador that recently the 8 staff from Botswana and Lesotho campus visited Adana Arparslan University of Science and Technology, Türkiye as part of the ERASMUS staff mobility program. Botho staff travelled to Türkiye for 2 weeks meeting staff of their Türkiye partner on various aspects of collaboration on research, career services, curriculum development and staff student exchange. During their visit, Botho staff also had an opportunity to meet staff from other universities from Algeria, Ukraine and Jordan developing more collaborations.
Additionally, Botho University shared the inspiring story of their Health Information Management programme graduate, Ms Gobakwe Rammidi, who received a full scholarship from the Turkish Government in 2022 to pursue her master's degree at Nevşehir Haci Bektaş Veli University. Vice-Chancellor of Botho University Dr. Sheela Raja Ram, Pro Vice-Chancellor –Academics, Dr. Ivy Rose Matthew, Pro Vice-Chancellor of People and Impact, Dr. Priya Iyer, and Deputy Pro Vice-Chancellor – Employability and Technology Aravinda Ram met the Honourable Türkiye Ambassador. He was also taken on a campus tour appreciating the impressive rooftop solar panels installation which produces almost 80% of Botho University's electricity requirements at peak capacity.
The Ambassador was also glad to see the fully functional electric car called Genius 1 developed by the Faculty of Engineering and Technology staff and students. Botho University shared video clips of staff and students who had visited Türkiye or were studying in Türkiye highlighting the success of the partnerships in place. Botho University also mentioned that they were gearing up for receiving a staff member from one of their Türkiye university partners soon for some research work in Botswana. The Türkiye ambassador highly appreciated the partnerships between Botho University and Türkiye institutions, mentioning that this was one of the most active partnerships. The Ambassador also requested Botho University to share proposals for any other possibilities for collaboration going forward.