Unpacking employability and technology on Gabz FM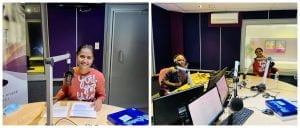 Deputy Pro-Vice Chancellor-Employability and Technology, Mrs Aravinda Ram recently sat down with Press Beat Show hosted by Titus Paul on the 2nd May 2022. She spoke about the importance of Employability and Technology to the modern graduate, as well as the different programs that Botho University has in place to help with graduate employability in the ever-changing job market.
Mrs Ram shared how at the heart of Botho University was an emphasis on Employability which is even embedded in the institution's strategy since 2008. The focus on employability has brought about the Botho Graduate Profile (BGP) which ensures that the Botho graduate is a well-rounded individual with attributes such as being knowledgeable, hardworking, innovative, and entrepreneurial.
The interview also shared about the active and engaging Botho Alumni Network with over 4,000 graduates on the Facebook page. She said through the Student and Alumni Affairs Department (SAAD), Botho University students and graduates have access to internships, job placements, and training to enhance the employability mandate of the institution.
She further shared how COVID-19 has also been a learning curve for Botho University and created rewarding collaborations for the institution such as working with Virtual Internships, an organisation that enabled students to have access to virtual internships from around the world.
The host and listeners equally appreciated the informative session, as one of the listeners applauded how Botho University's focus was not only on conventional classroom learning but also having various initiatives that addressed life in general.